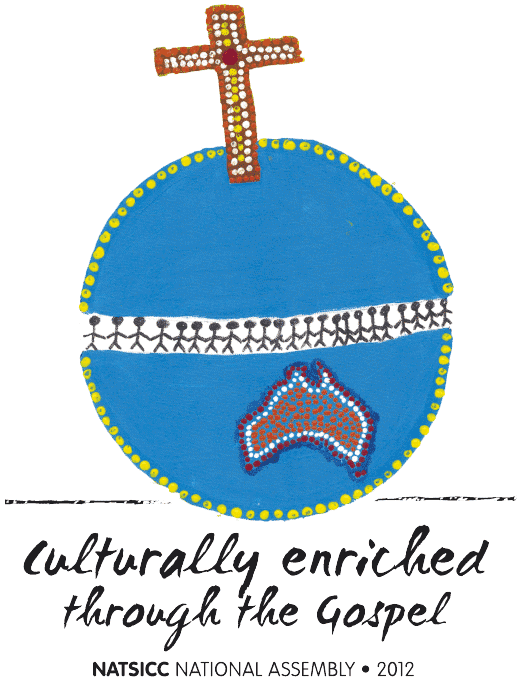 The 2012 NATSICC Assembly – Culturally Enriched through the Gospel - was held in Melbourne from 1-4 October. Sunshine greeted the 260 delegates from every State and Territory, including the 60 youth that attended the concurrent Youth Assembly.
The four days were filled with workshops based around scripture, healing and celebrating the good work being done by Aboriginal and Islander Catholic Ministries around Australia. Singing and dancing often resonated throughout the Assembly venues. NATSICC was very pleased with the support shown by Church hierarchy with 5 Bishops attending and numerous Clergy and Religious participating throughout the week. NATSICC feels that the week realised the prophetic words of Pope John Paul II – " the Church herself in Australia will not be fully the Church that Jesus wants her to be until you have made your contribution to her life and until that contribution has been joyfully received by others. The Year of Grace was a key theme around which the event was designed.
NATSICC assembled a wonderful array of speakers for the event, including:
· Fr Frank Brennan
· Miriam Rose
· Mark Bin Bakar
· Evelyn Parkin
· Bishop Christopher Saunders
· Les Malezar
Additionally, the council were able to secure two international speakers – Danny Karratea Goodard (NZ) and Sr Kateri Mitchell (USA). Danny discussed the Maori Translation of the Missal and Sr Kateri spoke of the wonderful news of the canonisation of Native America's first Saint Kateri Tekakwitha.
The delegates signed a petition stating "We the Aboriginal and Torres Strait Islander Catholics of Australia do hereby strongly recommend that the Australia Catholic bishops Conference give general approval for the use of the Aboriginal Eucharistic Prayer, Rituals and Symbols in the Mass celebrated in Aboriginal communities, Parishes and Schools."
Although NATSICC faced some challenges with the varied demographic, urban location and size of the delegation, the feedback received from delegates was overwhelmingly positive. The Assembly has sent people back to their homelands enriched, recharged and enthused to bring the word of God to life in the lives if their families and communities.
The various speeches and workshop findings are available in the Resources section of the website.
NATSICC Assembly 2012 Gallery
​