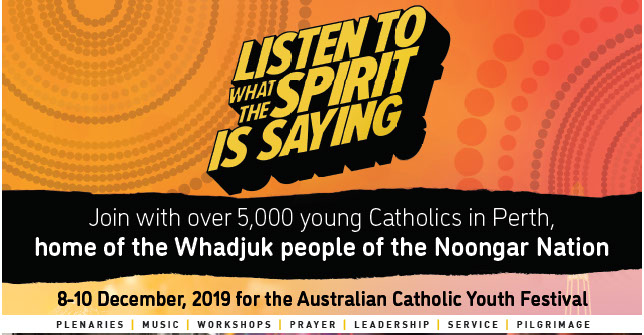 What is the Australian Catholic Youth Festival (ACYF?)
The Australian Catholic Youth Festival (ACYF) is a national gathering of Catholic young people established by the Australian Catholic Bishops Conference (ACBC). It exists to provide young people with opportunities to deepen their relationship with Jesus, be empowered to be disciples in the world today and encounter and celebrate the vitality of the Church in Australia.
For more information, visit https://youthfestival.catholic.org.au/event-details-2/
Why is NATSICC Sponsoring a group?
Download the NATSICC Sponsorship Information Flyer Here
One of the major functions of the NATSICC youth portfolio is to build the capacity of young Aboriginal and Torres Strait Islander Catholics to become leaders in their own communities. NATSICC Youth Leadership Gatherings (previously held in Brisbane, Adelaide and Melbourne) are organised by the Council to fulfill this aim and to also build the networks of young leaders.
In recent times, the gatherings have taken place in conjunction with the Catholic Youth Festivals, giving participants the opportunity to experience these fantastic events from an Indigenous context.
What will I experience if my nomination is successful?
What will NATSICC Sponsor?
• Catholic Youth Festival Registration
• Flights from your nearest major city / Regional centre
• Accommodation from 7– 11 December
• Breakfast (Lunch and Dinners are not covered)
• Travel to and from the festival, workshops and associated events
• Workshop Materials
Nomination Guidelines
• Must be Indigenous and aged between 18-28 years old
• You should be actively involved within your local Catholic Parish, School, or
community group
• Be available from December 7th-11th and willing to fly to Perth, WA. You may be
required to share a room with someone of the same gender.
• Your application must be supported by a letter of endorsement from a your local
Parish Priest, Religious Brother or Sister
Logistics

Date:
7-11 December 2019
Festival Location:
Perth Convention and Exhibition Centre
Accommodation:
Metro Hotel - Canning St, South Perth