In the story below, NATSICC Torres Strait Islander Councillor Dolly McGaughey shares her story of growing up
on Hammond Island and celebrating the Coronation of Mary – Torres Strait Islands way!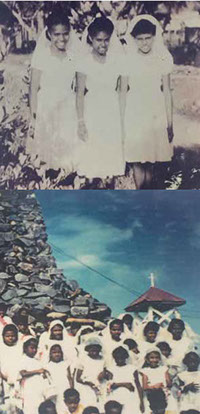 Growing up on Kirriri (Hammond Island) in the 1950s was very different from my birth place Poruma (Coconut Island) where I was baptised into the Church of England, now known as the Anglican Church.
I moved with my parents to Kirriri which was a Catholic Mission, here I attended St. Joseph's School. Back then the Catholic School was very different to what it is today. With a resident Priest and Nuns teaching at the School, we were taught hymns and prayers in Latin. The celebration of the Eucharist and the Benediction was all in Latin, plus other festivals like Easter and Christmas. We soon became accustomed to the many church rituals. We also celebrated Saint's Feast Days of St. Patrick's and St. Joseph's.
One of the many celebrations that sticks in my mind was and still is the Coronation of Mary - best known to us as Crowning of Our Lady. This usually happens on the last Saturday of the month of May. It was an exciting time for the children. There were a few chores to be done prior to the Crowning. At school three girls were chosen, one to carry the crown, one to carry the bouquet and one to crown Our Lady. Hymn practice was held at the church during school hours, later we would practice how to walk into the church, who would stand where, what to do and when.
On weekends, parents and children would go bush (orchid hunting) to collect orchids for the Crowning. I guess I would say that Cooktown orchids and 'Curly Brown orchids' grew abundantly on Kirriri. They bloom in May which was perfect timing for the Crowning. We would pick stems with flowers that were blooming, and also ferns and other greens to make bouquets for every single child at school.
As far back as I can remember, we have always used the same hymns and prayers for the Crowning. Girls in white dresses, veils and shoes; and boys in white shirts, shorts, shoes and gold sash.
Kirriri has a small population. The Crowning continues to be held every year and is still considered important, although less children are attending compared to the 1950s. The event is well celebrated and always brings joy to the children, parents and community. I've always wondered where else in the world this celebration is taking place.