The Aboriginal Catholic Ministry in Melbourne is located in Thornbury, Victoria. Recently renovated, the ACM has unique stained glass windows in the chapel which were designed by renowned artist Richard Campbell.
The Chapel, along with the rest of the building is state of the art and includes the latest Audio Visual equipment. The office section is modern and houses volunteers from the various projects that the ACM in Melbourne run from Thornbury.
It is a busy place but is always welcoming to those that visit.
ACM Melbourne: 434 St Georges Rd. Thornbury 3071
Hours: Monday - Friday 9am - 4pm
Phone: 03 9480 3849 | Sherry.Balcombe@cam.org.au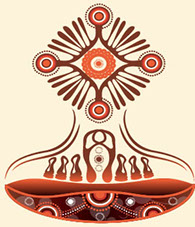 Services
Sacramental Ministry - Prepares families for: Baptism, Eucharist, RCIA
Funerals/Memorials - Works closely with the Victorian Aboriginal Funeral Service to comfort families by preparing the booklets, order of service and facilitating the service.
Liturgies - Prepares liturgies that celebrate Aboriginal Rituals and Culture
Mass - Mass is every 3rd Sunday. (Keep an eye on the website for more details).
Liturgical Reflections - Advent, Easter and Lenten reflections are celebrated during the year.
Reconciliation- On a very practical level is practiced within the centre.
Speakers Program - Provides speakers for schools, parish groups, conferences.
Cultural Respect Workshops. - We design workshops for individual groups that address justice issues, history, culture, and spirituality.
Resource Centre - We offer a range of resource materials from audio, visual and reference books. Our team can offer advice on the wide range of talent and resources within the Aboriginal community and can assist on questions of cultural protocols.
Advocacy - We are available for the Aboriginal community to assist where possible in difficult time and situations.
Programs
Binnap Partners
Are a group of volunteers that support the operations of the ACM allowing it to extend pastoral care to the Aboriginal Community. For membership contact Sherry Balcombe 9480 3849
Opening the Doors Foundation
Is an education foundation established by the ACM to support Aboriginal families who are making a choice for a Catholic education for their children. If you want to know more about Opening the Doors Foundation contact the office on 03 9443 9070 or have a look on the web site for further information www.openingthedoors.org.au
Catholics for Australian Reconciliation
Catholics for Australian Reconciliation (CFAR) is a group of Catholics initially convened by the Melbourne Catholic Archdiocese for Justice, Development and Peace and the Aboriginal Catholic Ministry for Victoria. This group sees itself as responding to the mandate of Vatican II, which said that the church has 'always had the duty of scrutinising the signs of the times and of interpreting them in the light of the gospel'. For membership contact Sherry Balcombe 9480 3849
PROUD RACE is an exciting new initiative which enables schools to record and celebrate the stories of Indigenous Australians on life-size bollards which will be exhibited in venues throughout Australia.
We welcome new members
If you are interested in joining the Binnaps or CFAR please contact the ACM on 03 9480 3849